Sydney and major cities go dark for Earth Hour
Associated Press reports- "A lightning show was the brightest part of Sydney's skyline during Earth Hour, which began at 8 p.m. when the lights were turned off at the city's landmarks. Most businesses and homes were already dark as Sydney residents embraced their second annual Earth Hour with candlelight dinners, beach bonfires and even a green-powered outdoor movie."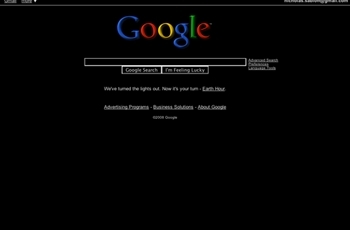 Google also went dark as seen here in this screen capture courtesy of The Huffington Post.
New, mixed-use alley development plans are in the works for D.C.
Washington Post reports- "The architecture firm of Foster and Partners, the same team that designed the space-age yet lyrical new covering over the courtyard of the Old Patent Office Building, has proposed a mixed-use assembly of office buildings, retail, apartments and condos, with a long, narrow alley running through the middle of it. It will not be a dark, dank alley, used mainly by garbage and delivery trucks, but rather an attempt to produce a narrow, bustling, urban street, a center for retail that mimics the canyons of commerce one finds in New York City. The alley will lead to a public plaza with some kind of fountain."
Chula Vista looking to become first city in San Diego county to adopt green building mandate
Union Tribune reports: "Hoping to do its part in reducing global warming, the city of Chula Vista is considering mandatory "green" building standards for new homes and businesses. Chula Vista would be the first city in the county to formally adopt green building standards for private development. In a recent general plan update, San Diego pledged to adopt green building standards, but has not yet done so."
Related Editorial-
One City at a Time

-Image courtesy of Illinois.com
University of Illinois' "Campustown" gets multi-million dollar upgrade
The News-Gazette reports: "A plan that city staff members are finalizing eventually could lead to higher property taxes for some East Green Street property owners, much denser development in the western part of Campustown, a campus parking deck and a multimillion- dollar extension of the streetscape. The plan could lead to an eventual reshaping of the Green Street corridor, which already is undergoing a boom with a 24-story apartment building and a seven-story retail and office building currently under construction. The "University District Action Plan" is an update of a 9-year-old Campustown plan."
In California's environmental battle with the federal government, the city of Ventura takes command.
The Ventura County Star reports- "Ventura County has a long history of guiding urban development into the cities going clear back to the mid-1960s. Global warming may not have been top of mind when voters approved these "smart" growth measures, but they are now nationally recognized techniques for discouraging urban sprawl and encouraging sustainable communities that help reduce greenhouse emissions."
Related Headlines-
How Now Wet Cat? California's Plan to Reduce Water Use and the Connection to Global Warming
Cap-and-trade system needs a chance to work

Topeka mayor may be placing citizens on city planning board based on religious favoritism.
The Topeka Capital-Journal reports: "[Linda] Roth, who sits on the planning board, believes members are being selected based on their affiliation with St. Mary's Academy and College rather than their qualifications. Mayor Gerard Kleinsmith has the last say in who is appointed to the planning commission, she said. Kleinsmith is listed in the St. Mary's Academy parish directory. 'It's a personal thing with the mayor,' said Roth, who has no ties with the academy."
Related Headlines:
St. Marys has cross to bear

Anchorage, Alaska offers tour with workshops on green building
Anchorage Daily News reports: "One of the best ways to build green? Go small. That advice came to life Saturday at a workshop and tour on environmentally friendly architecture in Anchorage. The tour's yellow school bus couldn't quite make it up the icy driveway at the final stop, way up in Stuckagain Heights, so it deposited dozens of architects, designers and other interested people on the road to check out a just-built contemporary house."

-Image courtesy of I2ideas.com
Las Vegas plans on hitting the green jackpot
The Toronto Star reports: "The city of lights and glitz is going green and could soon be home to the world's largest concentration of environmentally friendly hotel rooms … A total of 15 major new building projects in Sin City – including MGM Mirage's new 4,000-room CityCenter set to open in 2009 – are seeking the building council's stringent Leadership in Environment and Energy Design (LEED) Certification."