City rivalries: They dramatize professional, college and high school sports, but why don't they exist in other areas like education, quality of life or public art? There's nothing wrong with healthy competition. There's also nothing wrong with obsessive competition; if cities are going to fight over who has the most efficient mass transit system, for example, it will produce a lot more for residents than a world series win.
Let's get this thing started. We need something to spark these rivalries and a prize for winning. We'll start with Baltimore and Washington D.C., geographically convenient rivals with a lot of the same problems. Here's your rivalry — "Hey Baltimore, Washington said 'how does it feel to be a reminder for drivers on I-95 that they're getting close to a real city?'"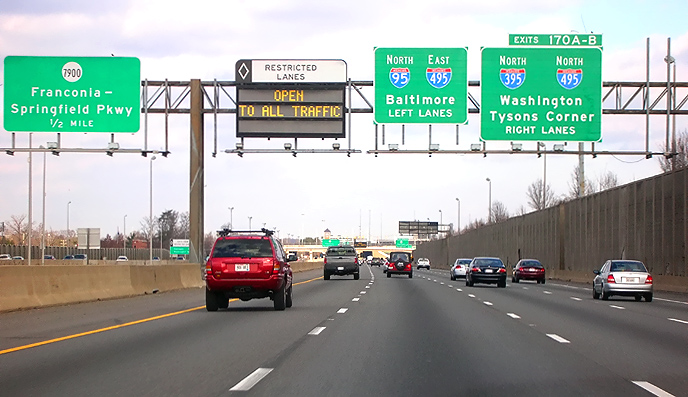 —image courtesy of Capital-Beltway.com
"Hey Washington, Baltimore asked me if it was a person who planned your streets, or a cross-eyed zoo animal?"
Now we need some way of gauging superiority. How about: whatever city has fewer stolen cars by the end of 2008 (with respect to population) wins the "The Golden Club" award and the losing city's mayor has to valet park the winning mayor's car at the award ceremony.
But let's build on the award ceremony — nobody watches The Grammys anymore, we can nix that for the City Awards Show sponsored by Next American City and IKEA (we could use the free furniture). Instead of the Oscars, we'll have "The Jacobs" or something else that NAC writers can identify with. Awards will be given in the following categories:
—Best Overall City
—Best Mayor
—Most Improved City
—Best Education System
—Best Mass Transit System
—Best City Project
—Lowest Crime Rate
—Best Utilities
—Best Library
—Best Public Art
—Best Health System
—Best acting by a city official while being investigated by the FBI.
and so on.
It would be like this, except, without the dancers or the washed up celebrities or pretty much everything goin' on in this picture.
—image courtesy of The New York Times
Who doesn't think this is a good idea? Who would rather see some actor make long-winded speeches about the benefits of Scientology and the war in Iraq? Who isn't more motivated to go to war after hearing such speeches?
I challenge you, cities of America, to make my award show a reality and to pay me a finder's fee of some sort … or just do the award show, either way, cities win. Hey! What a great sell!