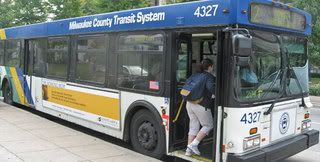 It's hard to think of a vehicle more maligned in Milwaukee than the city bus. Back in high school, when my friends and I depended on it to get to school and work, we nicknamed it the "green limousine," an ironic take on the green and white color scheme that the Milwaukee County Transit System used, from the teal stripe once painted along the side and front of every bus, to the olive green uniform once worn by every bus driver. Yes, I had no doubt back in those days that buses were not cool. Buses were for losers. They were for those who would rather be driving their own car, but for some reason could not: whether it be poverty, impairment, advanced age, or youth.
For such a "loser-mobile," however, I have to confess that the humble city bus was a steady companion that met my needs quite well for almost 15 years. I continued to rely on the bus throughout college, graduate school, and beyond. I reluctantly bought my own personal car only a few years ago, when I took a job that had me traveling to all corners of the metro area on any given day of the week. Before that, I took the bus downtown every morning to work and took it home every night. Of all my years taking the Milwaukee bus, I can count on one hand the times I had a bus that was seriously off schedule. So while I guess some people may have thought me a "loser" for taking the bus, I certainly didn't see it that way.
Now, as the transit system runs out of money, as express routes are eliminated and local routes are curtailed, a consensus has emerged in Milwaukee that our transit system is broken and needs fixing. For many people, any solution that does not involve some form of rail is no solution at all. Our former mayor, who now runs the Congress for New Urbanism, refused to discuss a transit future for the city that did not include light rail. He became a folk hero for local urbanists who wanted nothing more than sleek, modern trains shuttling visitors and commuters in and out of Milwaukee's central business district.
To make a long story short, after years of discussion, we have no train, and our bus system, which has long been held up as a national example of efficiency, is beginning a slow a decline. The local business community is convinced the city needs a light rail system in order to compete with other cities, while the county executive, whose government runs the transit system, thinks rail is a boondoggle that will only detract from the heart of the transit system, which is bus transit.
So it seems we will continue to court rail transit, the belle of the ball, the antithesis of bus transit. We're told it's the "cool" to the bus's "uncool," the "winner-mobile" to the bus's "loser-mobile." Of course, if light rail were a cheap proposition, we probably would have made the plunge long ago. But it's not cheap.
While the city's transit situation is debated (mostly by those that have never taken a city bus in their lives), the lowly bus continues to plug away, unappreciated and underfunded, delivering nearly 140,000 Milwaukeeans every day to school and work, providing a vital service for the so-called "losers" to get around town cheaply and efficiently.
Here's a question that might not win me many new friends at the next New Urbanism convention: why don't we take the hundreds of millions of dollars it would take to build rail line through our city, and use it to provide cleaner, faster buses that serve the entire city, not just those lucky few who happen to live and work along one route?
I understand that all the "cool" cities have trains. But here's the thing: we're past high school. It's time to ensure that we have a transit system that works for Milwaukee. Not just the "cool" part of Milwaukee. We should aim to be the Midwestern city that's about substance over style. Now that would be cool.