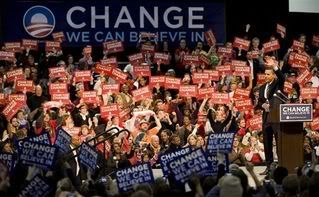 Fired Up and Ready to Go in Brew City. (Milwaukee Journal Sentinel)
Last week my city came down with a fever. Symptoms include: sudden feelings of euphoria followed by a quiet, zen-like sense of anticipation; sudden boisterous gatherings of young people; throngs of people in the streets carrying signs and encouraging passing motorists to honk their horns; and long lines of voters, many voting for the first time. That's right, Obamamania hit Milwaukee.
Now, there was a time, not too long ago, although it seems like a long time ago, that the conventional wisdom about Wisconsin's presidential primary held that it would not matter much, and that Senator Hillary Clinton would easily win the Democratic vote statewide. My, how times have changed over the last two months.
We had good reason to expect that Clinton would have a cakewalk in Wisconsin. She was supposed to poll well with white, working class "Joe six pack" type voters. And although Wisconsin's largest city is a minority-majority city, the rest of the state is overwhelmingly white. And, while Wisconsin is home to the uber-liberal, always-more-enlightened-than-you-are enclave of Madison, the state's Democratic voters on the whole are pretty "lunch bucket." Can you think of a state that's more "six pack" than Wisconsin? Neither can I.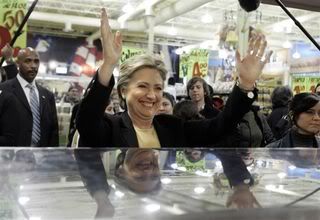 Sen. Clinton strikes an Evita pose at a popular Hispanic grocery store in Milwaukee. (Milwaukee Journal Sentinel)
So when I went to go see the 2008 Obama "Change we Can Believe In" Tour when it made a stop in Downtown Milwaukee the day after Valentine's Day, I knew Senator Obama would win Milwaukee and Madison, but I figured it would be close, if not in Clinton's favor, throughout the rest of the state.
Of course, I was wrong. Obama won a stunning 72% of the vote in Milwaukee and beat Clinton handily in a lot of mostly white, heavily blue collar places like Janesville, Green Bay and Eau Claire.None of this bodes well for Clinton. Neither does the excitement and enthusiasm surrounding Obama's campaign. At his indoor rally on a cold, Friday morning, I saw a lot of things you don't usually see at political events. I saw a remarkably diverse crowd, in terms of ethnicity and age. I saw kids who look like they're barely old enough to vote, attending the rally with their parents. And, in at the rally in Milwaukee, I saw numbers of young minorities, the kinds of kids I see too often idly "hanging out" in the streets of Milwaukee. Obama's campaign has incorporated new voices and new groups that normally don't feel that they have a seat at the table. The excitement is palpable.
And Obama's speech was not just good. It was incredible. It might well be the best political speech I've ever witnessed. One does not have to agree with his policies (yes, he does talk about specific policies) to recognize that this Senator from Illinois has something special. He has a seemingly effortless ability to connect with each and every person in a large crowd. He's the only politician I've ever heard that makes you really believe that he believes what he's saying. Is he the best political communicator since Kennedy? I think he might be better than Kennedy. He's that good.
Yes, this campaign is something new. This really is different. But my inner Machiavelli (and maybe my poli-sci degree) tells me that politics is a game. Some are better at playing it than others. Obama is a highly skilled player of the game of politics. If a President Obama manages to expose the game, change the rules, and invite new people to play, then he really will have accomplished something historic, something almost beyond politics.
Until Obama can bring about this historical shift in our government and society, this is still merely a political campaign. It might be an inspirational campaign, an unlikely campaign, but it's a political campaign nonetheless. And political campaigns are always about hopes as yet unfulfilled.